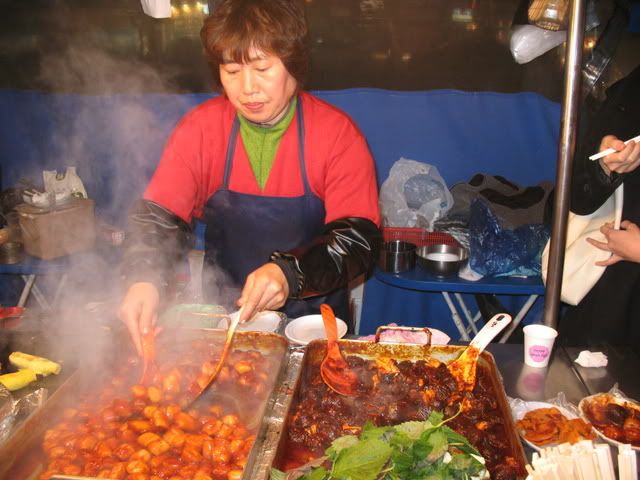 Mmmmm!!! I wonder what ajumma's cooking...
If you're addcited to Kdrama, I'm sure you've seen this stalls where Koreans drink bottle after bottle of sojus.
A pojangmacha is typically a restaurant on wheels. People cook food out of their trucks or vans and construct a make-shift restaurant with a tent. The walls of the restaurant are made with heavy duty plastic. A pojangmacha usually has plastic tables and chairs and has a raw charm about it. During winter months, pojangmacha owners may use kerosene heaters to warm the inside of the tent. While pojangmachas started out as a place to have a movable feast, some took the idea a bit further and decided to turn their tented restaurant into a permanent establishment. There are a few places in Apkujong near the Hak-dong intersection that are car garages by day and pojangmachas by night. There are several large, permanent pojangmachas in Hongdae where university students can snack after a night out clubbing. There are also entire streets of pojangmachas scattered throughout Seoul.
Don't expect a nutritious three course meal at a pojangmacha, instead you will find all manner of snacks: pork dumplings (mandu), korean pizza known as chon, rice cakes covered in chili sauce (ddopoki), fish sticks, chicken liver sticks etc..
Why are pojangmachas so ubiquitous in Korea? Firstly, the price is right. The food at pojangmachas are often very cheap, since owners don't have to pay exorbitant rents. Secondly, the atmosphere is lively and convivial. Pojangmachas are most often found clustered in areas where people are shopping, drinking and partying. You can go in there completely drunk, act loud and obnoxious and still manage to get a nice greasy meal to soak up the booze. If you want to continue drinking, most pojangmachas serve the alcoholic jet-fuel known as soju! In summary, pojangmachas are friendly places you can get cheap greasy snacks and chat with the owners or people next to you. It's the fun atmosphere which makes pojangmachas a popular place for casual socializing.
credit to: seoulstyle.com,